Sports Facility
Students can utilize sports facilities available at Delhi University
In-house sports event: Badminton Tournament
ACBR has organized a Badminton Tournament "SMASH IT – 2018" during the month of February - March. The tournament comprised of several categories such as Men's singles, Women's singles, Men's doubles, Women's doubles and Mixed doubles. It was sponsoredby Punjab National Bank(PNB). Winners and Runners-up of tournament were awarded with Medals, Trophies and Certificates.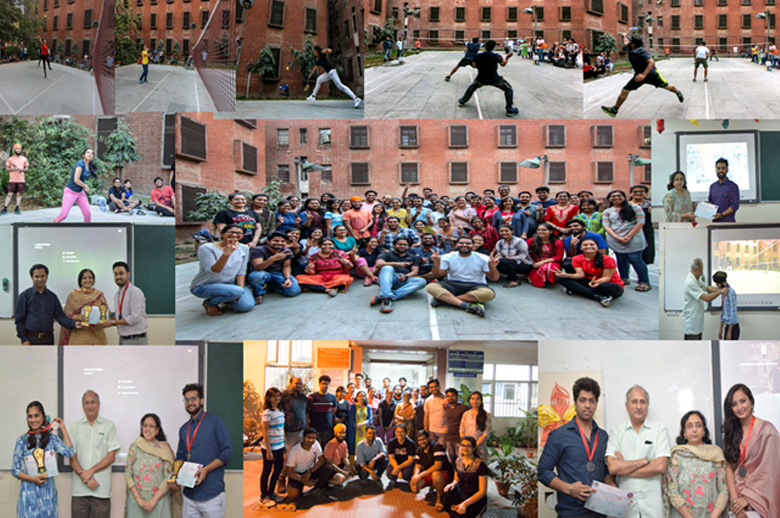 Co-curricular Activities
ACBR is not only about academics but a perfect blend of studies and extra-curricular activities. Students are expected to take an active part in all Co-Curricular activities organized by the ACBR. This aims at securing an all round development of the physical and mental faculties and provide an opportunity for use and application of the many faceted talents of the students. The student's societies conduct the different cocurricular activities under the guidance of the member of staff.
In the year 2010-2011, ACBR witnessed its first cultural fest organized by cultural society named 'Chaperons'. It showcased various talents of ACBRites and gave platform to many budding artists. It was an event initiated and organized by students revealing the other facets of students. During the same event a new tradition of annual magazine of ACBR was also set out. Every year various events like Deepavali puja, Foundation day, Freshers, Farewell etc are celebrated with lot of zeal and festivities.
Educational Tour
Every year educational trip is organized by the centre to a place where students can have some exposure to science and fun too. In the past there have been educational visits to country's leading institutes like I.I.Sc., Bangalore; CCMB, Hyderabad; CDRI, Lucknow; BITS Pilani; FRI, Dehradun; IMTECH, Chandigarh. Last tour were arranged to CSIR laboratory IHBT, Palampur (2015-16). During the tour despite the visits to research institute students visit various nearby tourist places in these cities.