Library
Biomedical Research Library at ACBR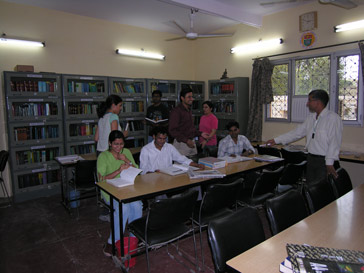 ACBR Library has excellent collections of textbooks and reference books. Besides this, many noted Professors and students have donated books to the library. This collection of books is available for both students and faculty members. A book bank facility is also available at ACBR.

The ACBR Library has books in the field of Animal Physiology, Cell Biology, Genetics, Organic Chemistry, Biochemistry, Radiation Biology, Immunology, Toxicology, Parasitology, Microbiology, Instrumentation analysis, Medicinal Chemistry, Pharmacology, Biochemistry, Natural Products, Biostatistics etc. Laboratory manuals are also available for pursuing research work. The ACBR subscribes to a few select journals in the area of Biomedical Sciences.

The ACBR runs a Book Bank intended to assist students, from the economically weaker sections of the society, by giving text books on loan to deserving students for a whole academic session, according to the rules framed for the purpose.
Central Science Library
Central Science Library established in 1981 is one of the major units of Delhi University Library System. The Library is centrally located in the vicinity of Dr. B.R. Ambedkar Center for Biomedical Research (ACBR) and caters to the teaching and research needs of the science departments. The library has more than 2 lakh volumes of books and periodicals. Old and rare periodicals are also available in Central Library. The Library also has a rich collection of latest reference books.
The Library has open access where users can freely browse the stacks and select the books/periodicals of their choice. The Library remains open round the year from 9.00 a.m. to 8.00 p.m.
The Library is currently subscribing to about 314 current periodicals and has provision for Library Loan Service from various libraries in the country. The Library is also providing Personalized Information Service and photocopying facility to students, research scholars and faculty members.
The Central Science Library is completely computerized, it has more than 30,000 records of books added to the Library on the computer with 1997 as the cut off year.
The Central Science Library has acquired an Internet Access Facility readily available for all the students of the science faculty of the University of Delhi. The online journal subscription is extensive covering Elrium, Cell press & Nature.com, Science Direct & Scopus.