Faculty

Daman Saluja
Professor, Director
Medical Biotechnology
Email:
dsalujach59@gmail.com
Prof. Daman Saluja, is currently a Professor at Medical Biotechnology Laboratory, Dr B R Ambedkar Center for Biomedical Research, University of Delhi, North Campus. She got her Doctoral degree in 1986 from University of Delhi, Delhi. Prof. Daman Saluja worked as a Research Scientist in various capacity (1987-1990) at University of Delhi. She then joined New York University Medical Center, U.S.A. where she worked as Assistant Research Scientist at Department of Biochemistry (1990-1993). Later she joined Department of Microbiology (NYU medical Center) and worked as Assistant Research Scientist from 1993-1997.
Dr Saluja joined Dr B R Ambedkar Center for Biomedical Research, University of Delhi as Reader in 1997 and later became Professor in 2007. She was also Director of Dr B R Ambedkar Center for Biomedical Research from 2006 to 2010.
Prof Saluja has received several awards and scholarships including National Science Talent Scholarship (1975-1984). She is recipient of Prestigious, INSA Young Scientist Medal and LSS Kumar Memorial Award in 1989 by Indian National Science Academy. On May 11th, 2013 on Technology Day she was awarded ?The Biotech Product & Process Development and Commercialization Award? of 2013 by the Honourable President of India for her outstanding contribution in the development of novel method of Beacon based PCR diagnostic kit for Neisseria gonorrhoeae and Chlamydia trachomatis. She was also selected for Khorana Program Technology Transfer course 2013 under Indo-US science and technology Forum.
For the past twenty years, Laboratory of Prof. Saluja has been working in the area of Medical Biotechnology. Her primary contribution is in the development of beacon based Polymerase Chain Reaction (PCR) mediated diagnostic assays for sexually transmitted diseases caused by Neisseria gonorrhoeae and Chlamydia trachomatis and Trichomonas vaginalis, Currently, her lab is working on LAMP based diagnosis of Mycobacterium tuberculosis. In collaboration with Industry, Dr Saluja has also designed a low cost, hand held fluorescent reader. More recently, her group has developed low cost, novel method of qPCR for the detection and quantification of bcr/abl transcript for Chronic Myeloid Leukemia (CML) and for acute myeloid leukemia (AML) and are also looking into anti-leukemic activity of plant extracts. She is author of ten patent applications and one Indian and one US patent has been granted. Her laboratory is also looking at regulation of gene expression in eukaryotes using sin3B as a model system. Sin3B is an important co-repressor involved in p53 mediated gene repression under genotoxic and non-genotoxic stress. Their findings suggest that Sin3 plays a pivotal role in regulating cell cycle and apoptosis under conditions of cellular stress. More recently, they have established that Sin3 regulates life span and autophagy in eukaryotes.
Prof Daman Saluja has published more than 85 original research papers in International Journals. She has produced 20 Ph.D. students and more than 50 students have done project work (M.Sc and SURP) under her guidance. She has been invited to more than 40 National and International conferences.
Honours & Awards:
1. ?Selected for Khorana technology transfer course held at the University of Wisconsin-Madison, USA July 2013


2. ?Received ?The Biotech Product & Process Development and Commercialization Award? of May 2013


Ongoing Projects:
1. ?Understanding the role of SIN3, A global transcription regulator in nongenotoxic stress mediated modulation of gene expression" Funding Agency DST, 2016-19.


2. ?Development of a hand held molecular point-of-care test device for infectious diseases (Indo-Canada Impact project)" Funding Agency DBT, 2017-19.


3. ?Validation, Field Trial Scale-up and Commercialisation of Sensitive and Specific PCR based Diagnostic kit and Instruments for diagnosis of Chlamydia and Nisseria infection Biotechnology industry research assistance council" Funding Agency (DBT-BIPP), 2014-16.


Selected Recent Publications:
32. Sharma M, Pandey R, Saluja D. ROS is the major player in regulating altered autophagy and lifespan in sin-3 mutants of C. elegans. Autophagy. 2018 Jun 18. doi: 10.1080/15548627.2018.1474312. In Press


31. Zafar A, Singh S, Satija YK, Saluja D, Naseem I, Deciphering the molecular mechanism underlying anticancer activity of coumestrol in triple-negative breast cancer cells. Toxicol In Vitro. 2018 Feb;46:19-28. doi: 10.1016/j.tiv.2017.10.007.


30. Srivastava K, Chandra S, Narang R, Bhatia J, Saluja D. E-selectin gene in essential hypertension: a case-control study.Eur J Clin Invest. 2018 Jan;48(1). doi: 10.1111/eci.12868


29. Joon D, Nimesh M, Varma-Basil M, Saluja D (2017). Evaluation of improved IS6110 LAMP assay for diagnosis of pulmonary and extra pulmonary tuberculosis. J Microbiol Methods. 2017 May 14;139:87-91. doi: 10.1016/j.mimet.2017.05.007. [Epub ahead of print] PMID: 28514671


28. Saini V, Manral A, Arora R, Meena P, Gusain S, Saluja D, Tiwari M. (2017) Novel synthetic analogs of diallyl disulfide triggers cell cycle arrest and apoptosis via ROS generation in MIA PaCa-2 cells. Pharmacol Rep. 14;69(4):813-821. doi: 10.1016/j.pharep.2017.03.006.


27. Sonkar S C, Wasnik k, Kumar A, Sharma V, Mittal P, Mishra P K, Bharadwaj M, Saluja D (2017) Evaluating the utility of syndromic case management for three sexually transmitted infections in symptomatic women visiting hospitals in Delhi, India?, Scientific reports 3;7(1):1465. doi: 10.1038/s41598-017-01422-y.


26. Sachdev D, Kumari I, Bala M, Kumar V, Saluja D. (2017) Mutation pattern in the genome of Neisseria gonorrhoeae and its association with multidrug-resistant isolates from Delhi, India. Indian J Med Microbiol. 2017 Jan-Mar;35(1):109-112. doi: 10.4103/ijmm. IJMM_16_46.


25. Sonkar SC, Sachdev D, Mishra PK, Kumar A, Mittal P, Saluja D.(2016) A molecular beacon-based asymmetric PCR assay for easy visualization of amplicons in the diagnosis oftrichomoniasis. Biosens Bioelectron. 11;86:41-47. doi: 10.1016/j.bios.2016.06.025.


24. Sonkar SC, Wasnik K, Kumar A, Mittal P, Saluja D. (2016)Comparative analysis of syndromic and PCR-based diagnostic assay reveals misdiagnosis/ overtreatment for trichomoniasis based on subjective judgment in symptomatic patients.Infect Dis Poverty. 2016 May 5;5:42. doi: 10.1186/s40249-016-0133-x


23. Arora R, Sawney S, Saluja D. (2016)Potential Therapeutic Approaches for the Treatment of Acute Myeloid Leukemia with AML1-ETO Translocation.Curr Cancer Drug Targets.16(3):215-25.


22. Srivastava, K., Narang, R., Bhatia, J., & Saluja D., (2016) Expression of Heat Shock Protein 70 Gene and Its Correlation with Inflammatory Markers in Essential Hypertension.PLoS One11(3):e0151060


21. Sachdev, D., Patel, AL., Sonkar, SC., Kumari, I., & Saluja D., (2015) Diagnosis of Neisseria gonorrhoeae using molecular beacon.Biomed Res Int597432


20. Hasan, T., Ali, M., Saluja D., & Singh, LR.(2015) pH might play a role in regulating the function of paired amphipathic helices domains of human Sin3B by altering structure and thermodynamic stability.Biochemistry (Mosc)80(4):424-32


19. Chandra, S., Saluja D., Narang, R., Bhatia, J., &Srivastava, K., (2015)Atrial natriuretic peptide and aldosterone synthase gene in essential hypertension: a case-control study.Gene.567(1):92-


18. Mishra, A., Kumar, R., Tyagi, A., Kohaar, I., Hedau, S., Bharti, AC., Sarker, S., Dey, D., Saluja D., & Das, B., (2015)Curcumin modulates cellular AP-1, NF-kB, and HPV16 E6 proteins in oral cancer.Ecancermedicalscience9:525


17. Singh, S., Pandey, S., Bhatt, AN., Chaudhary, R., Bhuria, V., Kalra, N., Soni, R., Roy, BG., Saluja D., &Dwarakanath, BS., (2015)Chronic Dietary Administration of the Glycolytic Inhibitor 2-Deoxy-D-Glucose (2-DG) Inhibits the Growth of Implanted Ehrlich's Ascites Tumor in Mice.PLoS One.10(7):e0132089


16. Joon, D., Nimesh, M., & Saluja D., (2015) Loop-mediated isothermal amplification as alternative to PCR for the diagnosis of extra-pulmonary tuberculosis.Int J Tuberc Lung Dis.19(8):986-91


15. Kadamb, R., Mittal, S., Bansal, N., & Saluja D., (2015) Stress-mediated Sin3B activation leads to negative regulation of subset of p53 target genes.Biosci Rep 25;35(4)


14. Gupta, S., Kumar, P., Kaur, H., Sharma, N., Saluja D., Bharti, AC., Das, BC.,(2015). Selective participation of c-Jun with Fra-2/c-Fos promotes aggressive tumor phenotypes and poor prognosis in tongue cancer. Sci. report19;5:16811


13. Sawney, S., Arora, R., Aggarwal, K., K., & Saluja D., (2015) Esculetin Downregulates the Expression of AML1-ETO and C-Kit in Kasumi-1 Cell Line by Decreasing Half-Life of mRNA, J of Oncology, 8


12. Faiq, MA., Dada, R., Sharma, R., Saluja D., & Dada, T., (2014) CYP1B1: A Unique Gene with Unique Characteristics.Curr Drug Metab. 15(9): 893-914.


11. Faiq MA, Ali M, Dada T, Dada R, Saluja D. (2014) A novel methodology for enhanced and consistent heterologous expression of unmodified human cytochrome P450 1B1 (CYP1B1).PLoS One. 2014 Oct 16;9(10):e110473. doi: 10.1371/journal.pone.0110473. eCollection 2014. PMID: 25329831


10. Chandra S, Narang R, Sreenivas V, Bhatia J, Saluja D, Srivastava K. (2014)Association of angiotensin II type 1 receptor (A1166C) gene polymorphism and its increased expression in essential hypertension: a case-control study.PLoS One. 2014 Jul 3;9(7):e101502. doi: 10.1371/journal.pone.0101502. eCollection 2014. PMID: 24992666


9. Patel AL, Mishra PK, Sachdev D, Chaudhary U, Patton DL, Saluja D. (2014)Seroprevalenceof antibodies against Pkn1, a novel potential immunogen, in Chlamydia trachomatis-infected Macacanemestrina and human patients.Biomed Res Int. 2014;2014:245483. doi: 10.1155/2014/245483. Epub 2014 Jun 18. PMID: 25032212


8. Nimesh M, Joon D, Varma-Basil M, Saluja D. (2014) Development and clinical evaluation of sdaA loop-mediated isothermal amplification assay for detection of Mycobacterium tuberculosis with an approach to prevent carryover contamination.J ClinMicrobiol. 2014 Jul;52(7):2662-4. doi: 10.1128/JCM. 00907-14. Epub 2014 Apr 30.PMID: 24789191


7. Nimesh M., joon, D., Pathak, A.K., Saluja D, (2013) Comparative study of diagnostic accuracy of established PCR assays and in-house developed sdaA PCR method for detection of Mycobacterium tuberculosis in symptomatic patients with pulmonary tuberculosis J. of infection 67(5):399 ? 407


6. Kadamb R, Mittal S, Bansal N, Batra H, Saluja D, (2013) Sin3: insight into its transcription regulatory functions. Eur J cell Biol. Aug- Sep; 92(8-9): 237 ? 46.


5. Joshi R, Kumar A, Manral S, Sinha R, Arora S, Sharma A, Goel S, Kalra N, Chatterji S, Dwarkanath BS, Rawat DS, Depass AL, Rohil V, Saluja D, Parmar VS, Prasad AK, Raj HG. (2013) Calreticulin transacety lase mediated upregulation of thioredoxin by 7,8-diacetory-4-methylcoumarin enhances the antioxidant potential and the expression of vascular endothelial growth factor in peripheral blood mononuclear cells. Chem Biol Interact. 25:206 (2): 327-36.


4. Mishra PK, Sonkar SC, Raj SR, Chaudhry U, Saluja D (2013) Functional Analysis of Hypothetical Proteins of Chlamydia Trachomatis: A Bioinformatics Based Approach for Prioritizing the Targets. J Comput Sci Syst Biol 7: 010-014. doi:10.4172/jcsb.1000132


3. Kumari S, Chowdhury J, Mishra A.K , Chandna S, Saluja D, Chopra M. ChemBioChem Synthesis and Evaluation of a Fluorescent Non-Peptidic Cholecystokinin-B/Gastrin Receptor Specific Antagonist for Cancer Cell Imaging Volume 13, Issue 2, 23 January 2012, Pages 282-29


2.Srivastava K , Sundriyal R, Meena P.C., Bhatia J, Narang R, Saluja D. Association of angiotensin converting enzyme (insertion/deletion) gene polymorphism with essential hypertension in Northern Indian subjects Genetic Testing and Molecular Biomarkers Volume 16, Issue 3, 1 March 2012, Pages 174-177


1.Srivastava K, Chandra S. Bhatia J, Narang R, Saluja D, Association of angiotensinogen(M235T) gene polymorphism with blood pressure lowering response to angiotensin converting enzyme inhibitor (Enalapril) Journal of Pharmacy and Pharmaceutical Sciences Volume 15, Issue 3, 2012, Pages 399-406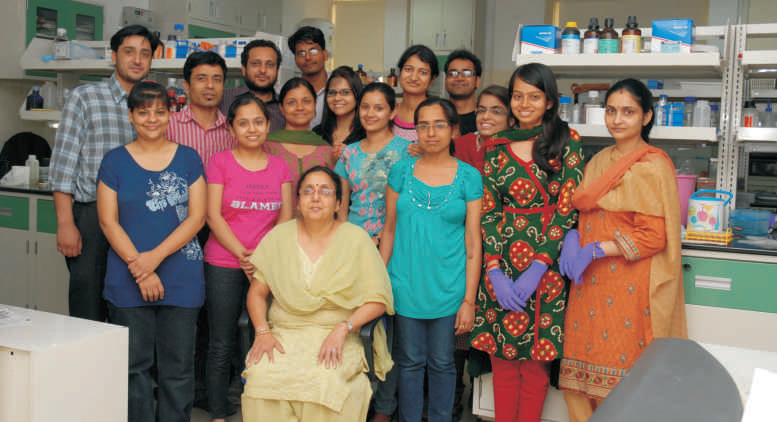 Breitling Replica Watches